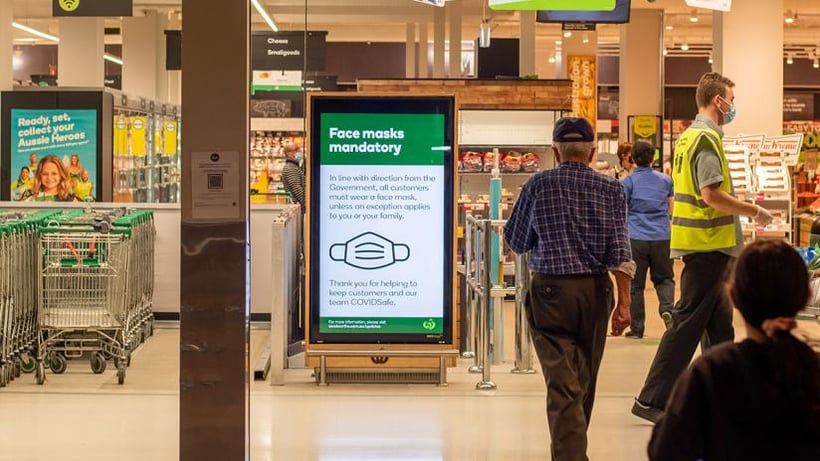 July 16, 2021
With the number of COVID-19 cases increasing in certain parts of the country, state and territory governments are doing what they can to stop the spread of the virus to keep their residents safe. In recent weeks, the states of New South Wales, Queensland and Victoria have been the hardest hit with community transmission of the virus on the rise. In a response, COVID-19 restrictions are either being implemented or extended in these areas. Here's what you need to know.
Victoria goes into a 5-day lockdown
In an announcement made today, Premier Daniel Andrews announced that Victoria will go into a five-day lockdown. Starting tonight, July 15, at 11:59 pm, Victorians should only leave their homes for the following reasons:
for essential items such as food, pharmaceutical and other supplies
for exercise (up to two hours and no more than 5km from home)
for care or caregiving
for work or school that cannot be completed from home
to get vaccinated
Private and public gatherings are not permitted — this includes religious gatherings. Weddings are capped at five people (including the couple and celebrant) and funerals can have no more than ten people (and those necessary to conduct the funeral).

Hospitality businesses are only permitted to provide takeaway services. Indoor and outdoor dining is not permitted. Indoor and outdoor venues, like concert halls, casinos and cinemas, must also close.

For any venues that are permitted to remain open at this time, cleaning, signage, record keeping, and other COVIDSafe requirements continue to apply. The Density Quotient also continues to apply to all venues that are able to remain open and are accessible to the public.

Along with the new stay-at-home orders, face coverings must be carried at all times and be worn indoors (except at home or if an exemption applies) and outdoors.

"If we act now — while we're right on the heels of this outbreak — we can give ourselves every chance of getting ahead of it.
If we wait — we lose that option," said Premier Andrews.

These restrictions will be in place until July 20 at 11:59 pm.
Queensland extends restrictions for South East Queensland
Earlier this week it was announced that restrictions for all of Queensland would be eased on Friday, July 16. However, it was announced today that as of 6 am on Friday, current restrictions for South East Queensland will continue for another seven days. The areas impacted by this change include Brisbane City Council, Logan, Moreton Bay, Ipswich, Redlands, Sunshine Coast, Gold Coast, Noosa, Somerset, Lockyer Valley and Scenic Rim.

These areas must continue to follow current restrictions which include requirements for face masks and gathering restrictions. Other restrictions include:
Restaurants and cafes can only provide seated eating and drinking services, standing service is not permitted.
Food businesses must collect contact details — even for takeaway services.
Businesses can only have one person per four square metres on their premises indoors. If the indoor area is less than 200 square metres, one person per two square metres is permitted but only up to 50 people at a time.
Businesses with outdoor areas can have one person per two square metres.
All COVID Safe Checklists and Plans must be completed and followed as per the legal requirements that have been approved for that business.
Wedding ceremonies are permitted to have 100 people but are limited to 20 people dancing at any one time.
Funerals are permitted to have 100 people.
The capacity permitted at outdoor stadiums is 100 percent with ticketed and allocated seating.
The capacity permitted at indoor concert venues and theatres is 100 percent with ticketed and allocated seating or one person per four square metres.
For the regions of Townsville, Magnetic Island and Palm Island, restrictions will be eased and it will be the same as the rest of Queensland.
New South Wales extends measures
In New South Wales, it was announced that current restrictions would continue for another two weeks. This means the restrictions currently in place across Greater Sydney including the Central Coast, Blue Mountains, Wollongong and Shellharbour will remain in place until 11:59 pm on Friday, July 30.

Under these restrictions, food and drink premises, pubs and registered clubs must remain closed except for takeaway service in the Greater Sydney area. Across the entire state of New South Wales, all food businesses that prepare and serve food or drink for both on-site dining or takeaway services must comply with all public health orders (including the wearing of face masks in all indoor areas), have a COVID-19 safety plan and be using the Service NSW QR code.

The Australian Institute of Food Safety will continue to monitor changes to restrictions and provide updates as they develop.