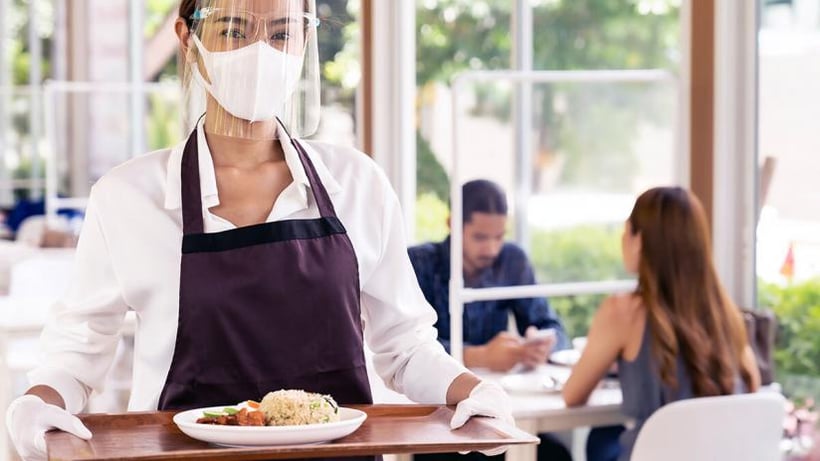 October 29, 2021
As the state reaches its 80 percent full vaccination target, the Victoria government has released new public health requirements for the hospitality industry. Starting 6:00 pm on Friday, October 29, metropolitan Melbourne and regional Victoria will share the following restrictions:
Masks are required indoors, but no longer mandatory outdoors.
Most indoor settings such as restaurants and pubs can open with no capacity limits, so long as they operate using the one person per four square metres density limit and all staff and customers (except for general retail) are fully vaccinated.
Most outdoor settings where staff and customers are fully vaccinated can operate at the one person per two square metres density limit.
These indoor and outdoor restrictions will also apply to weddings and funerals if all attendees are fully vaccinated. There is a capacity limit of 30 people if vaccination status is unknown.
Indoor seated entertainment venues such as cinemas and theatres can operate at a 75 percent capacity limit, or one person per four square metres density limit for up to 1,000 people. Non-seated indoor entertainment venues can operate at the one person per four square metres rule with no customer cap.
Stadiums, zoos and other outdoor seated and non-seated entertainment venues can operate at the one person per two square metres density limit for up to 5,000 people. Staff and customers must be fully vaccinated.
Musical festivals and other events can host up to 5,000 attendees, subject to any venue restrictions.
Proof of vaccination requirements
Businesses that are required to review proof of full vaccination before allowing customers over 16 years old entry can do so by checking the customer's:
COVID-19 digital certificate on the Service Victoria app
COVID-19 digital certificate in a smartphone wallet
Printed copy of their COVID-19 digital certificate, along with photo ID
Immunisation history statement, along with photo ID
Australian Immunisation Register certificate, along with photo ID
Medical exemption certificate or letter from an authorised medical practitioner, along with photo ID
Vaccination requirements for food workers
Workers in specific industries, including volunteers, contractors and students on placement, are required to show proof of full vaccination to their employer by November 26, 2021 to continue working outside their home. For food businesses, these include workers in:
food and drink businesses such as restaurants, food courts, cafes, licensed premises, cafeterias, wineries and food trucks
supermarkets, grocery stores, butchers, bakeries, fruit and vegetable stores and fishmongers
food manufacturing
meat and seafood processing
agriculture
Victoria plans to ease more restrictions once the state reaches its 90 percent vaccination target, expected around late November.
All aspiring food business owners in Australia need to stay up to date on food classifications, food licences and food safety requirements.