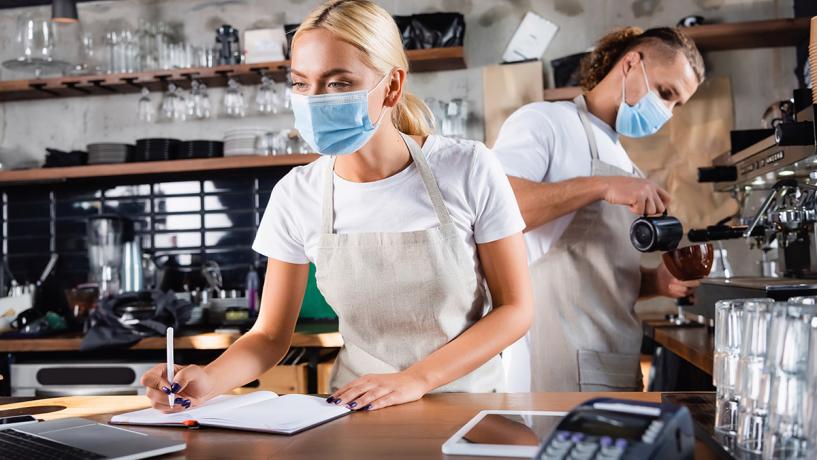 January 5, 2021
New South Wales (NSW) has been grappling with COVID-19 outbreaks as of late, resulting in new restrictions being put in place in order to stop the spread and keep residents safe. In order to help businesses stay on top of the newest restrictions and measures, here is the latest information on what NSW businesses need to know.
What are the new face mask requirements in NSW?
As of January 3, face masks will now be mandatory in certain indoor premises in Greater Sydney, including Wollongong, Central Coast and Blue Mountains. The indoor premises where face masks are mandatory include shopping areas such as retail stores and supermarkets. Face masks are also mandatory for all staff in hospitality venues.

It is essential that businesses know that compliance with mandatory face masks starts from Monday, January 4 and there will be $200 fines for non-compliance.

You can read more about the new face mask requirements here.
When to wear a face mask
Face masks have been an essential part of stopping the spread of COVID-19. COVID-19 is transmitted person-to-person
through droplets released when an infected person speaks, breathes, coughs or sneezes. Infected people may be presymptomatic (not yet displaying symptoms) or asymptomatic (not experiencing any symptoms) and still transmit the virus.

Face masks reduce transmission by blocking potentially infectious droplets from the wearer's mouth and nose. This is especially important in situations where physical distancing cannot be maintained, such as in stores, line ups and workplaces.

In Greater Sydney, it is mandatory for all staff working in food retail and food service businesses to use face masks when working — even if they are only providing take-away or delivery services as this time. This helps protect all staff from transmitting or contracting COVID-19 from each other. The use of face masks also helps keep customers safe.

Face masks must also be worn by customers in order to protect staff and other customers from potential COVID-19 exposure.

Read more about face mask guidelines specific to NSW here.
How to use and dispose of face masks
It isn't enough to simply wear a face mask — you need to wear it properly in order for it to be effective.

The following steps must be taken when using face masks in order to use them properly and prevent contamination:
Before putting on a face mask, clean hands with alcohol-based hand rub or soap and water.
Cover your mouth and nose with the face mask and make sure there are no gaps between your face and the mask.
Avoid touching the face mask while using it; if you do, clean your hands with alcohol-based hand rub or soap and water.
Replace the face mask with a new one as soon as it is damp and do not reuse single-use masks.
Remove the face mask from behind (do not touch the front of the mask).
Discard used face masks immediately in a closed bin
Clean hands with alcohol-based hand rub or soap and water after disposing of a used face mask.
The different types of masks
There are different types of face masks that can be used, all with their own pros and cons. Here is breakdown of what you need to know about the different types of face masks:

Single-use face masks

Single-use face masks are usually made of a non-woven polypropylene layer. These face masks must only be worn once and then disposed of immediately once they become moist or contaminated. They can be bought in bulk packages and it is essential that you purchase single-use face masks from a reputable supplier.

The NSW government is warning of fake face masks that are now entering the Australian market due to high demand for single-use face masks or 'surgical masks'. Ensure that there are no holes or valves in the face mask as that means it will not prevent the spread of COVID-19.

Certain workers, such as those who work with the elderly or in health care situations, should only wear medical grade face masks that are compliant.

Masks that meet the Australian Standard (AS/NZS 1716:2012) or international equivalent:
have the manufacturers name, trademark or trade name on the mask
are certified by an independent body such as SAI Global, and have their licence number marked on the packaging
are certified by the US National Institute for Occupational Safety and Health (NIOSH), if from the United States of America
Reusable cloth face masks

In order to be effective, cloth masks should have three layers of fabric. The outer layer should be water-resistant polyester or polypropylene fabric. The middle layer and the inner layer (closest to your face) should be high-grade cotton or polycotton.

Cloth masks become ineffective once they are damp. Always replace a damp or contaminated cloth mask with a new one. This means you will need multiple cloth masks. After a cloth mask has been used it must be washed at 60°C/140°F or above and dried hygienically. Reusing a cloth mask without washing it can lead to self-contamination and infection.

Want more information about face masks? Download the AIFS PPE for Food Workers fact sheet.

Face shields

Face shields are simple, transparent screens usually made of plastic that cover the face. For proper usage, ensure the face shield covers the sides of the face and below the chin. Face shields should only be worn in combination with a face mask. They are not considered an alternative to face masks when used on their own.

For more information on face shields, download the AIFS Fact Sheet Face Masks Vs. Face Shields.

Bandanas and scarves

The New South Wales government has stated that scarves and bandanas are not acceptable forms of face coverings. They do not offer the same protection as a well-fitted face mask. Also, scarves and bandanas are often worn over and over again without being washed, which poses an infection risk.