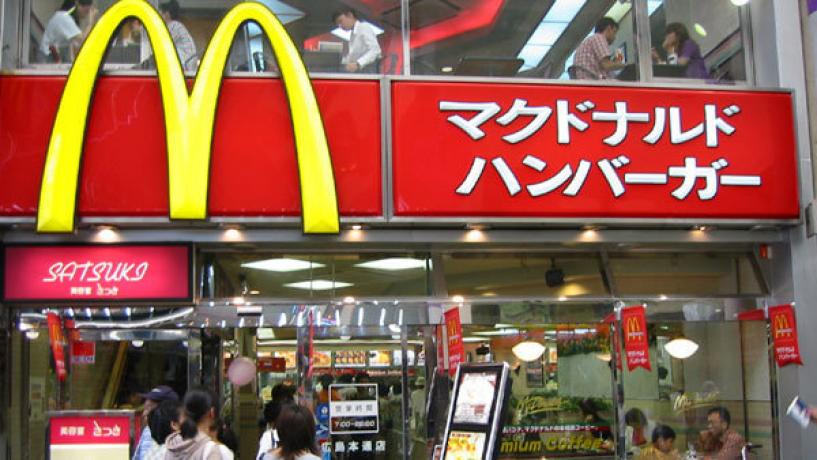 October 24, 2014
On Tuesday McDonald's Holdings Co (Japan) Ltd 2702.T forecasted a net loss of some 17 billion yen ($177.896 million AUD) for 2014, its first loss in 11 years.
A food safety issue was mostly to blame said executives, but sales had already been weakened by serious competition from popular convenience stores.
McDonald's Corp (MCD.N) holds 49.9% of McDonald's Japan, and this announcement only makes their outlook bleaker, as global sales are generally falling.
McDonald's Japan Chief Executive Sarah Casanova told a media briefing that "Customers have expressed a lack of confidence in our food quality, and I take responsibility for that. It's our intention to try to turn this business around as fast as we can." Casanova also revealed an operating loss of 9.4 billion yen for the year to December 31.
Chickening Out Of The Market
Japan's many convenience stores, which offer a wide variety of healthy and organic foods as well as sweets and fast food options (plus free Wi-Fi and more), had been competing with McDonald's for some time before a widely-publicised food safety scare involving a major Chinese supplier of chicken meat which was found to have breached standards.
McDonald's will be seeking damages from the supplier, and while the company shifted immediately to chicken supplies from Thailand and Brazil, this scare led to a stepping-up of inspections of food suppliers and more, and its bad publicity and a resulting lack of public trust were seen as contributing to the losses.
Other global food companies, including Yum! Brands Inc (YUM.N), were also hurt by the scare, but McDonald's Japan was hit hard, with a 25% drop in sales in August (the sharpest fall since the company became public in 2001) and then a further 16.6% in September.
McDonald's Japan shares were duly affected and closed 2.5% lower at 2,638 yen, reversing earlier gains and creating a 0.7 % drop in the benchmark Nikkei Index. McDonald's overall global sales also fell 3.7% in August, a downturn that has as much to do with food safety scares like that in Japan and competition from convenience stores (and other restaurants and food suppliers) as shifting consumer tastes and, perhaps, changing attitudes to healthy eating and a currently fashionable move towards preparing food at home.