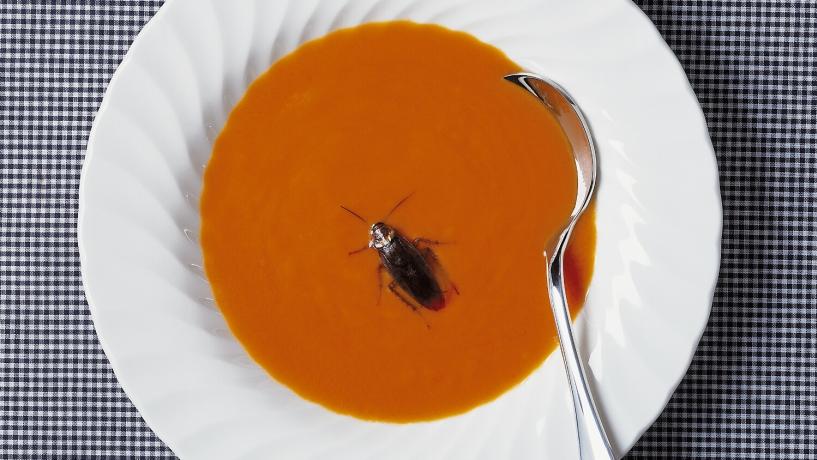 March 14, 2017
Celebrity couple Jess Origliasso of Veronicas fame, and Hollywood star Ruby Rose were embroiled in a food safety incident last Monday while dining at the popular Spice Temple restaurant in central Sydney.
Spice Temple, a modern-Chinese restaurant located in Bligh Street Sydney and owned by celebrity chef Neil Perry, has gained international acclaim for it's banquet-style dining experience with a culinary focus on China's lesser known regions. A popular dining destination, the restaurant is frequented by Sydney's elite including politicians, business and media identities, celebrities and socialites.
Last week's incident, as reported by the Daily Telegraph, saw Origliasso and Rose served a cooked insect while dining at the restaurant after conducting promotional work in the city. The couple are famously vegan and were shocked when they were served what appeared to be a cooked cockroach in their afternoon meal.
Origliasso and Rose were unavailable for comment, however restaurant owner Neil Perry said he was mortified.
"This is the first time I have ever seen anything like this in 42 years", the chef commented.
"Especially at Spice Temple, it is one of the cleanest kitchens you will find anywhere in the world, so I am struggling to figure out how this could have possibly happened. But apparently it did and I am aware the meal was taken away immediately. It was comped (given complimentary) and we brought them out all sorts of other things."
Rockpool Dining Group food and dining director Jeremy Courmadias said, "We are aware of the situation and did our best to try to recover at the time."
"We have a very strict pest control regimen and a strict reporting process in place as well as a cleaning regime. We also have regular inspections from the health department and do our utmost to ensure this sort of thing never happens."
Asked whether the restaurant had ever served insects in food before, Mr Courmadias replied: "No. This is absolutely­ a one off. We take this ­extremely seriously. We aren't even 100 per cent sure it was a cockroach. We know it was a bug of some sort."
Reminder of Severe Impact of Food Safety Incidents
Fortunately for Neil Perry and Spice Temple, Ruby Rose later tweeted to reaffirm her support for the establishment and chef. Spice Temple has cultivated a reputation for quality dining with a strong focus on food safety, however this incident serves as a timely reminder of the negative publicity and potentially damaging effects of any breach in food safety standards.
For information on how to protect your business from a similar crisis, refer to our guide Using a Food Safety Supervisor to Protect Your Business.