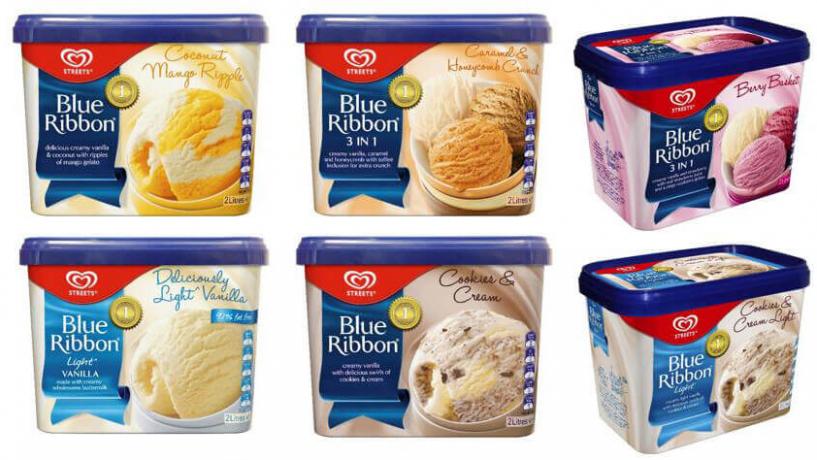 May 5, 2016
Have you recently purchased a tub of Blue Ribbon ice cream? You're advised not to consume and to get a refund immediately after a recall warning was issued.
On Wednesday night, Unilever recalled its popular 1.25L and 2L tubs of Blue Ribbon ice cream across Australia after plastic pieces were found, and posed a risk of injury to customers.
In a statement released by the ice cream maker, they revealed the affected products are those dated between 28th April 2017 – 27th April 2018. Customers are advised not eat the contaminated ice cream and to return empty tubs to the original place of purchase for a refund.
"We have been made aware of a very small number of cases where plastic pieces have been found in these products and could present a risk of injury," the statement said.
"Consumers are advised not to eat the affected products and should return empty ice cream tubs to the place of purchase for a full refund."
According to reports by Fairfax Media a Unilever spokesperson said "This is an operational issue whereby plastic appears to have entered some tubs during the production process,"
"We have undertaken a full investigation of the issue and reviewed our quality assurance measures. We have implemented a number of measures to address the issue and are confident the steps we have taken have rectified the problem."
Products with a best before date from 28th April 2018 onwards are not affected in this nation-wide recall.
Unilever further added, "We thank everyone for their cooperation and apologise for the inconvenience caused by this recall,"
"Blue Ribbon products are proudly made in Australia and our focus is always on the health and safety of our consumers and maintaining our high-quality standards."
What to do if you have questions?
For those customers with questions or concerns about the recall should contact Unilever by calling 1800 801 885 or emailing consumerrelations.uanz@unilever.com.