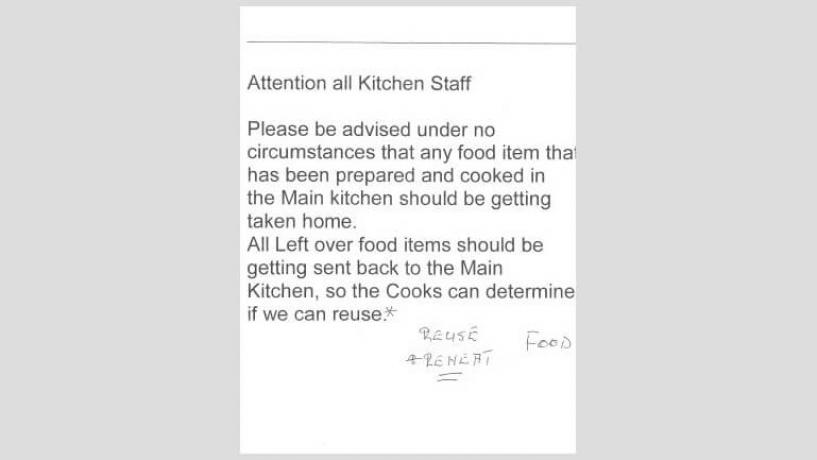 March 7, 2016
Kitchen staff working at Blue Care's aged care home in Wynnum have been instructed by management to reuse and reheat leftover food.
According to The Courier-Mail, a memo was sent to staff, stating that "all leftover food items should be getting sent back to the Main Kitchen, so the Cooks can determine if we can reuse".
Underneath the typed memo, the facility's hospitality team leader has handwritten 'REUSE + REHEAT FOOD'.
Blue Care Say Memo Was Poorly Worded
When contacted by The Courier-Mail, the organisation's Executive Director Robyn Batten stated that the memo was 'poorly worded' and did not represent the company's policies.
"The memo refers to returning food to the kitchen. However, the purpose of this is not for reuse, but to determine the amount of wastage, identify popular dishes and spot overproduction in the kitchen," said Ms. Batten.
"It is also a good way of monitoring if residents are eating an adequate diet to support their nutritional requirements."
Disability Advocates Share Concerns
Mark Tucker-Evans, who is the Chief Executive of the Aging, said that when it comes to aged care facilities, the quality and safety of food must be of utmost importance.
Chief Executive of Queensland Aged and Disability Advocacy Geoff Rowe said that reheating food is especially concerning for elderly people, particularly those susceptible to bacterial illnesses.
"Of concern if we're talking about reheated foods … the bacteria and stuff, they're the sorts of risks," he said.